61-Minute High Definition Travel Documentary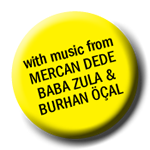 A young American woman wants to discover what really makes Istanbul unique.
She unveiles Istanbul by interviewing interesting characters in both popular and
out of the way settings, about topics we have all wondered about. She reports from
behind the scene.
Istanbul Unveiled's Upcoming Screenings:
Istanbul Unveiled will be screened at the Boston Turkish Film Festival on November 14, 2015. Serif Yenen will also personally be making a presentation after the screening. The details are below:
Saturday, November 14, 2015 – 7:00 pm
Goethe-Institut
170 Beacon Street, Boston
If you are around, and have some time, you are welcome to join. Because of limited seating, if you have any intention, please register at the following address:
Please click here to register.
----—–oOo—–----
You are cordially invited to the screening of travel documentary film "Istanbul Unveiled" and personally meet Mr. Serif Yenen, director, producer and travel writer on Turkish travel.
Wednesday, November 18, 2015
7:30pm – 9:30pm
University of Washington
Thomson Hall, Room 101
Seattle, WA 98195
Organisation by
University of Washington
Ottoman and Turkish Studies Program
Near Eastern Languages and Civilization Department